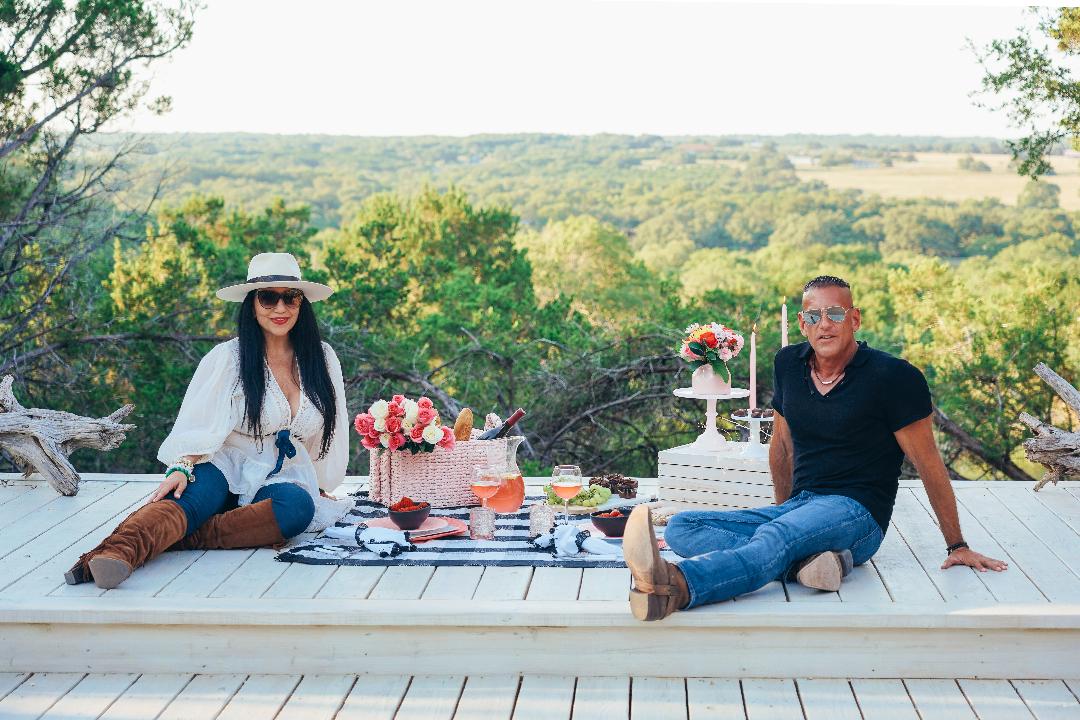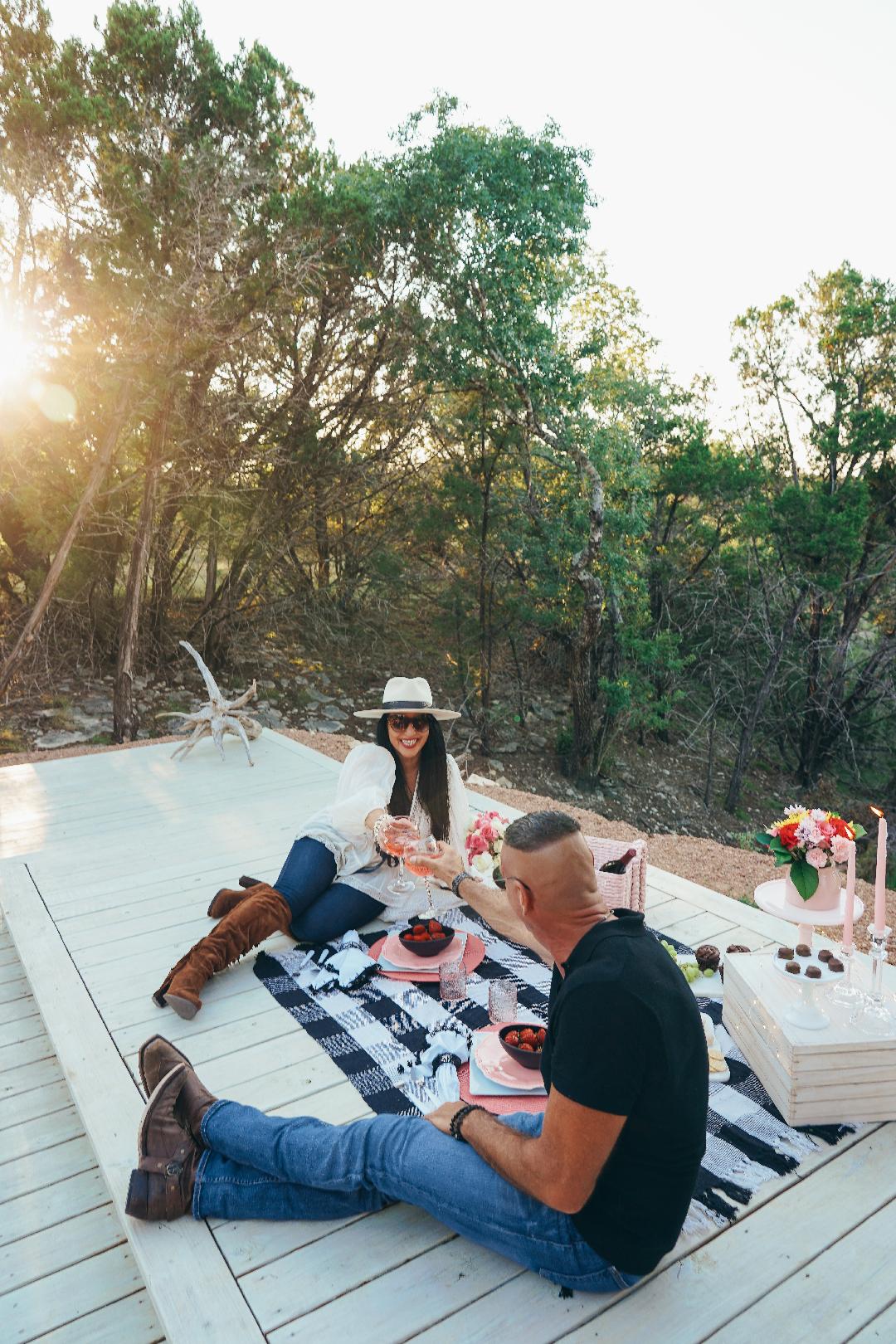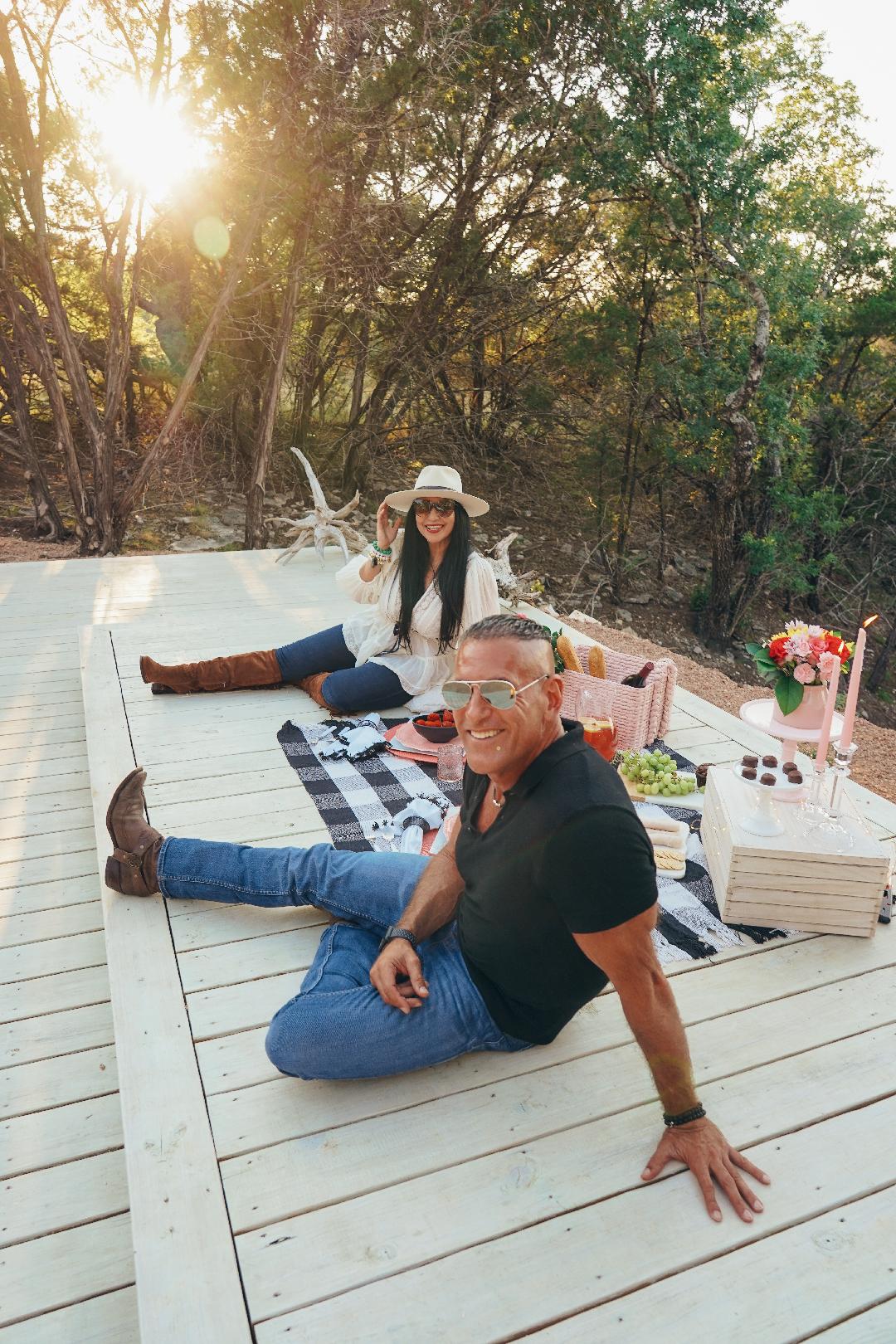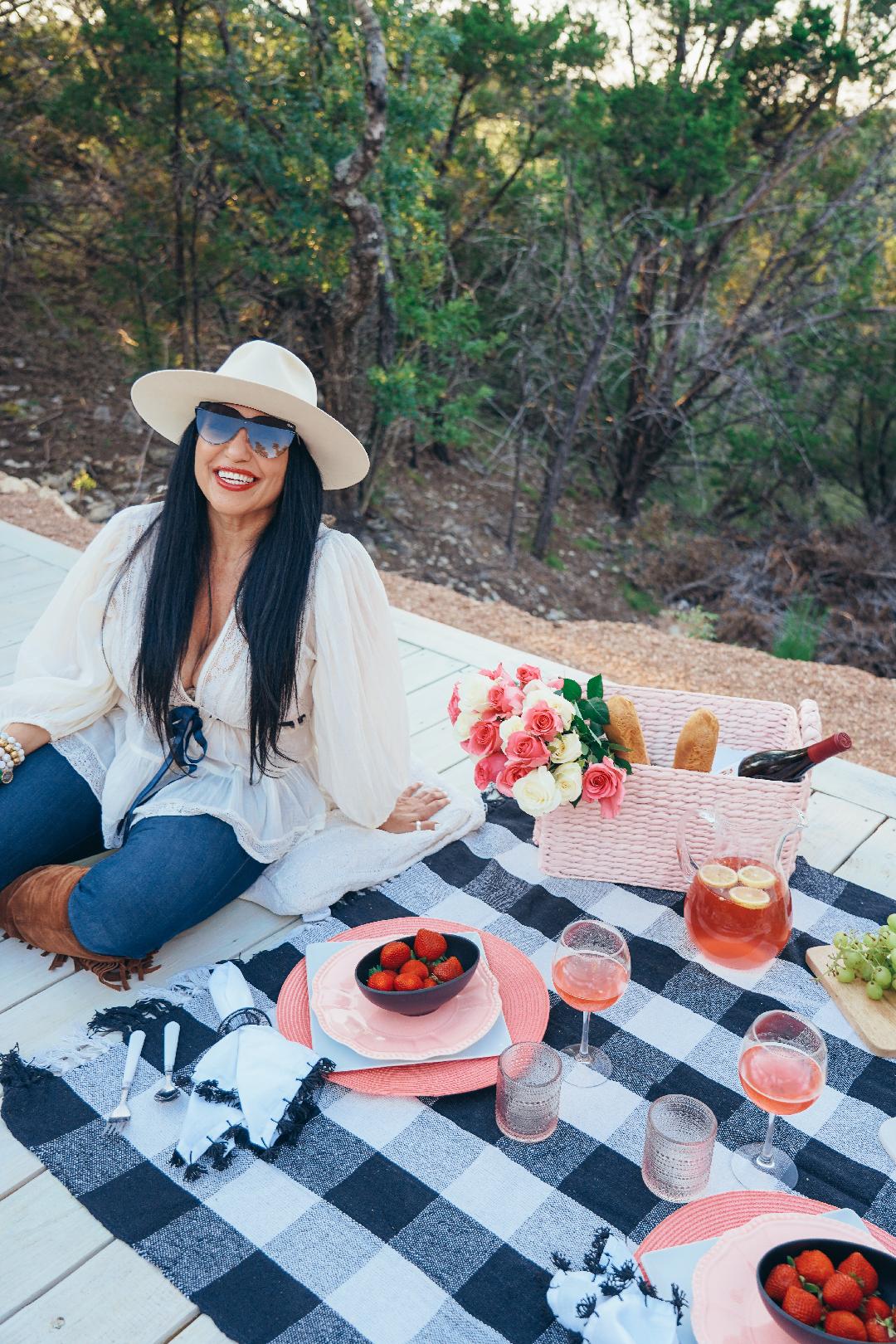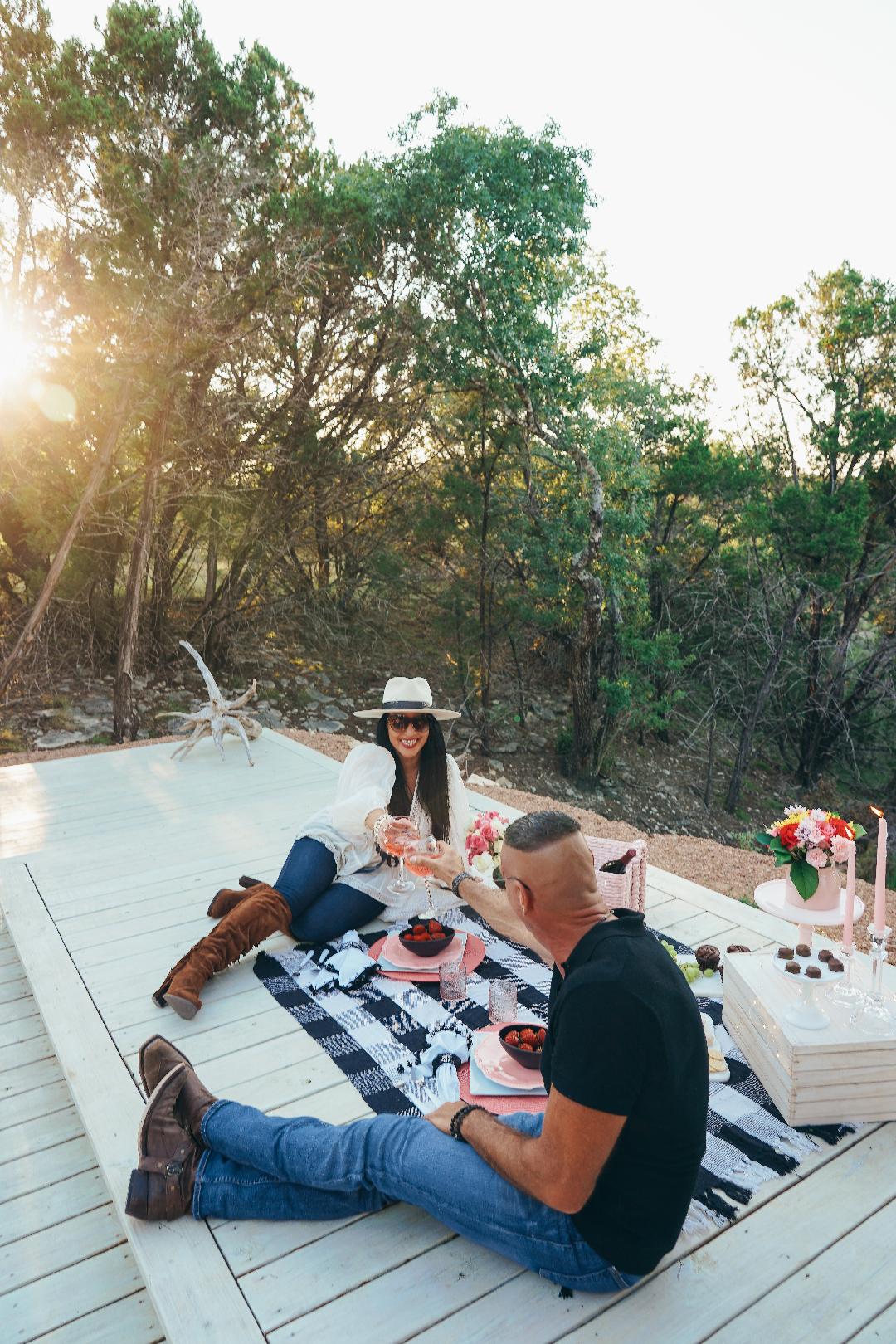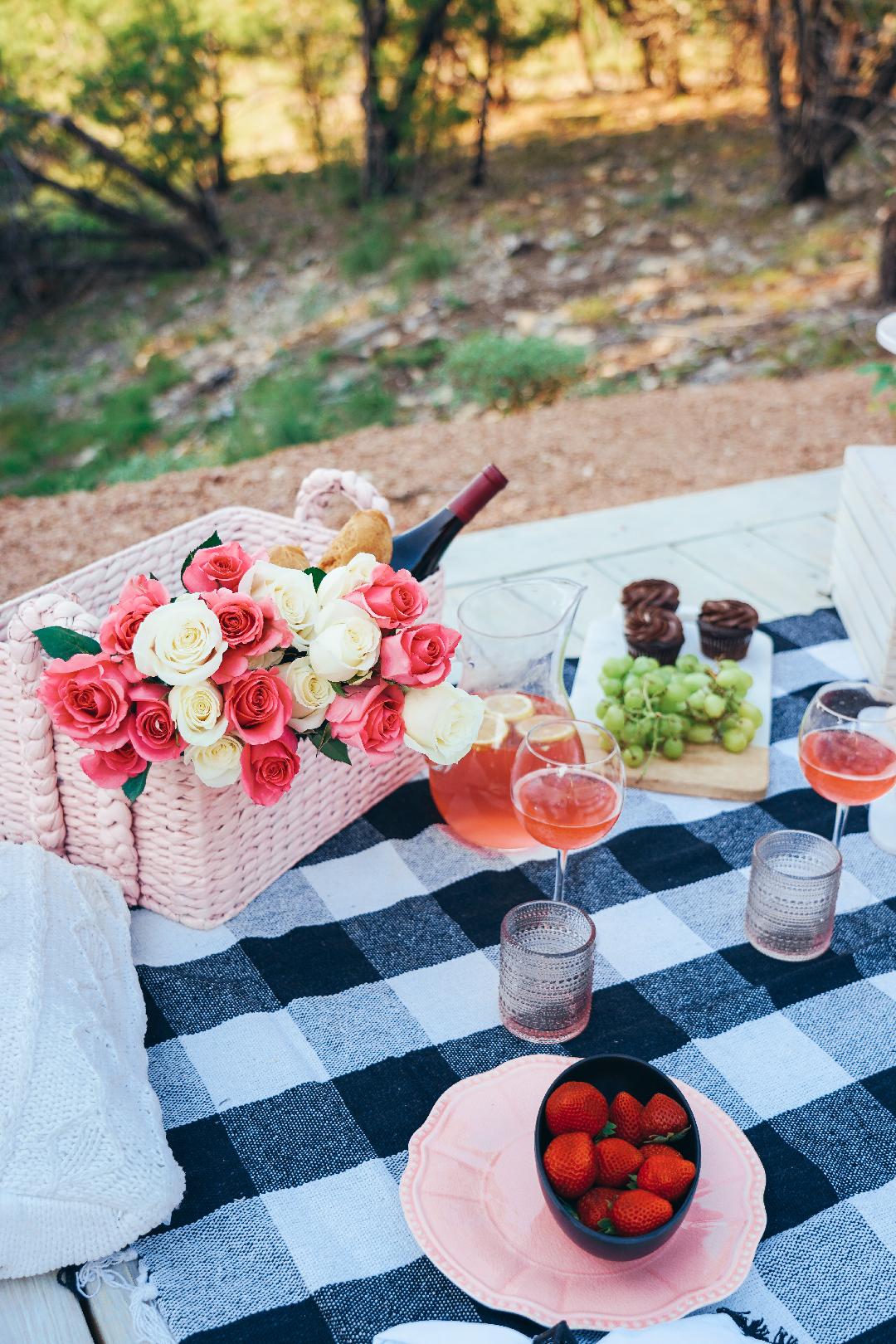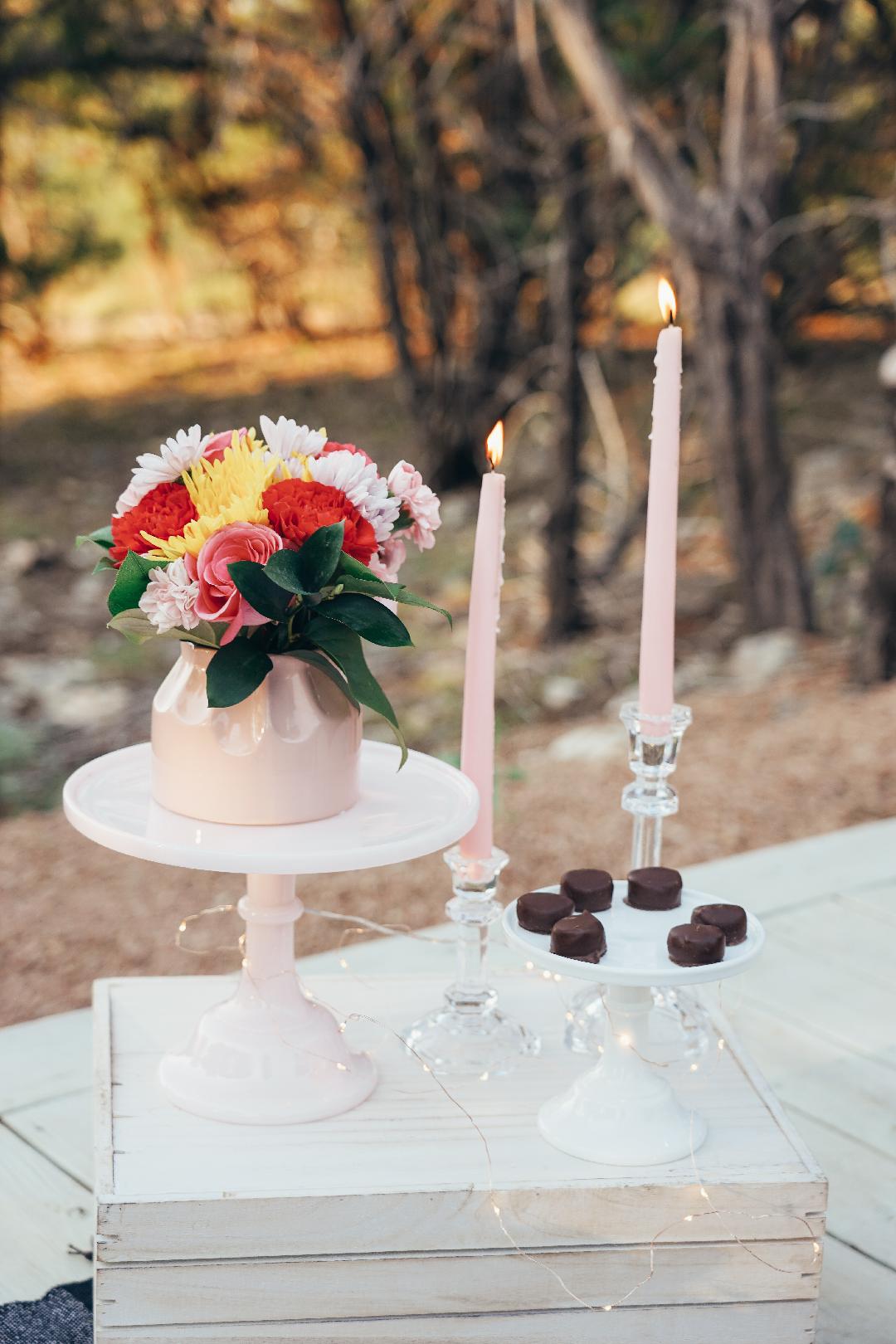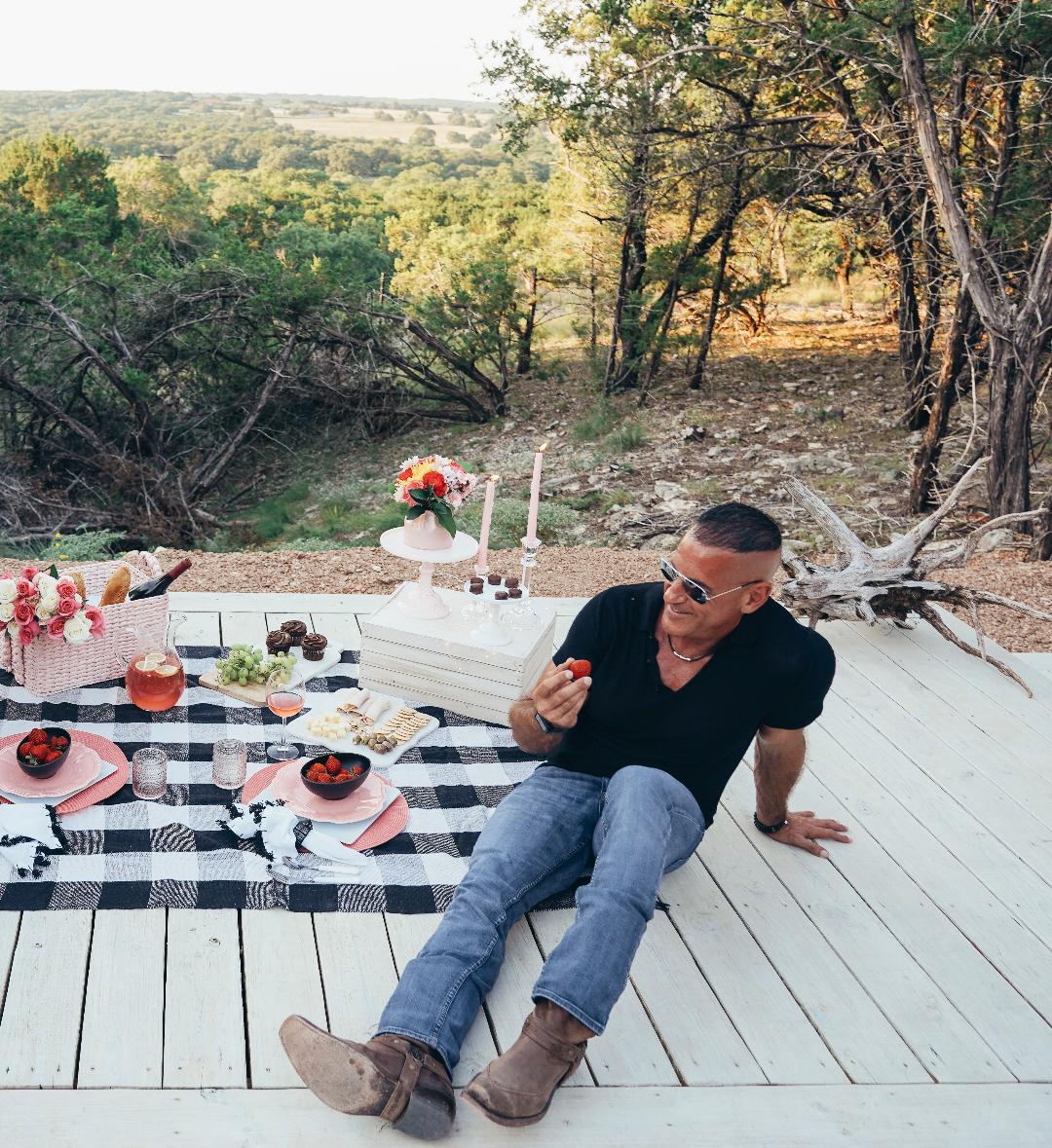 Hello Dolls,
It's picnic season! Grab your checkered blanket and head to the park or the country side! Picnics are a summer staple. They allow you to eat, drink and be happy with the ones you love in the great outdoors. Chris and I love picnics, so when we were invited to stay at Lucky Arrow Retreat. I thought ahhhh this is the perfect opportunity to have a picnic in the beautiful Texas Hill Country! Yipeee!
I am such a theme person. I am all about making sure each picnic is a beautiful experience because it makes for beautiful memories. I immediately envisioned a black/white/pink picnic for this one. It was the perfect location with a wooden deck to sit on that over looked the beautiful Texas Hill Country. This location is called the Overlook and is also the location for outdoor weddings. The view is breathtaking and it is the perfect romantic setting with so much love, energy and happy vibes. We loved it!
I have digressed so let me get back on track. When I am planning a picnic I make a checklist of everything I will need, so that I stay organized and don't forget something important.
I made a checklist below to help make your picnic planning easier as well as a huge success.
Picnic Checklist
Picnic Basket– Find the perfect picnic basket. You can find them on line or at most Home Good Stores. For this picnic, I envisioned a pastel pink basket I found this basket at Home Goods, then I went to Michael's and purchased spray paint. The color I purchased is named Ballet Slippers. Chris is so good about helping me so he spray painted the basket and it turned out beautiful.
Blanket– Your blanket should be big enough so you can both sit on it. When I think of a picnic I always envision checkered blankets, but you can choose any blanket that fits your style. The blanket above you can purchase HERE
Pick the perfect location- Park, Lake, Beach or in the country. In other words, anywhere scenic.
Food with easy clean up- fruit, cheese, rolled turkey (or your favorite meat) pre-made (or bought) sandwiches, grapes, strawberries, watermelon, nuts, olives, dark chocolate, bread, cupcakes, wine, sparkling water you get the idea. The easier it is to eat and drink, the better.
Cutting Boards- cutting boards make sure you have one, two or three. They can be small, round, wood, marble whatever just make sure you have them . Perfect to layout the food spread, or as a surface to rest drinks on, you really can't go wrong to have extras.
Accessories- This is key! Make sure you've got a wine opener that doubles as a bottle opener too. Flowers, plastic plates, silverware, cake stands,napkins, cheese cutters, plastic wine glasses and cups, throw pillows, trash bag and wipes.
Check the weather in advance-Rain can ruin a picnic, so make sure you check the weather forecast before making any final plans. If there's a good chance of rain, don't risk it.
Picnics are a great way to bond with your significant other/family/friends. It gives you time to talk and be at one with nature. In this world of technology its nice to unplug, unwind and spend quality time with the ones you love. I hope this inspires you to create a beautiful picnic with your love or family.
Shop Picnic items below:
Picnic Basket-My Basket purchased at Home Goods-Similar HERE
Spray Paint color Pink Ballet Purchase – HERE
I picked some gorgeous baskets for you to shop(all price points) HERE, HERE, HERE, HERE
Blanket in Photos- HERE
Black/White fringe napkins Pier One – HERE
Pink Plates – HERE
Black Plastic Bowls- HERE
Pink Placemats –HERE
Flowers and Flower arrangement- HERE
Pink Cake Stand-HERE All 4 sizes HERE
My Top sold out -similar HERE HERE HERE
Jeans-HERE
Custom Hat- HERE
Boots sold out – Similar HERE
Photography~ Paigeydahling
Thank you for stopping by! I am so grateful for you!