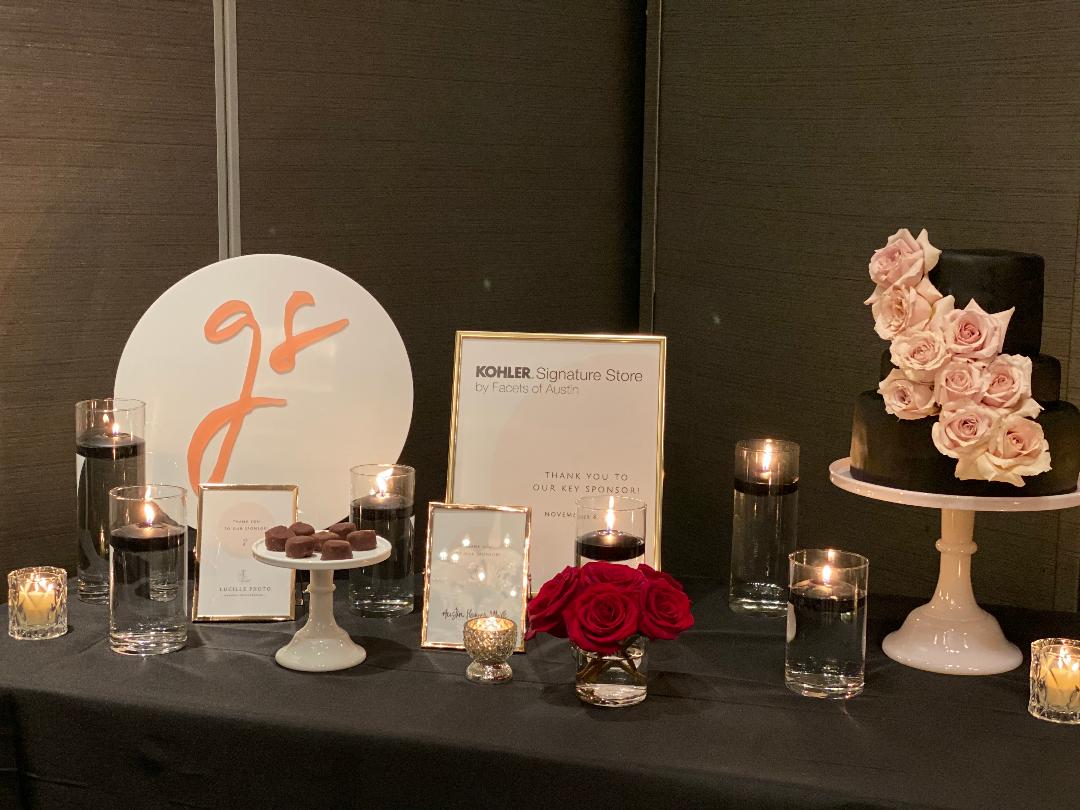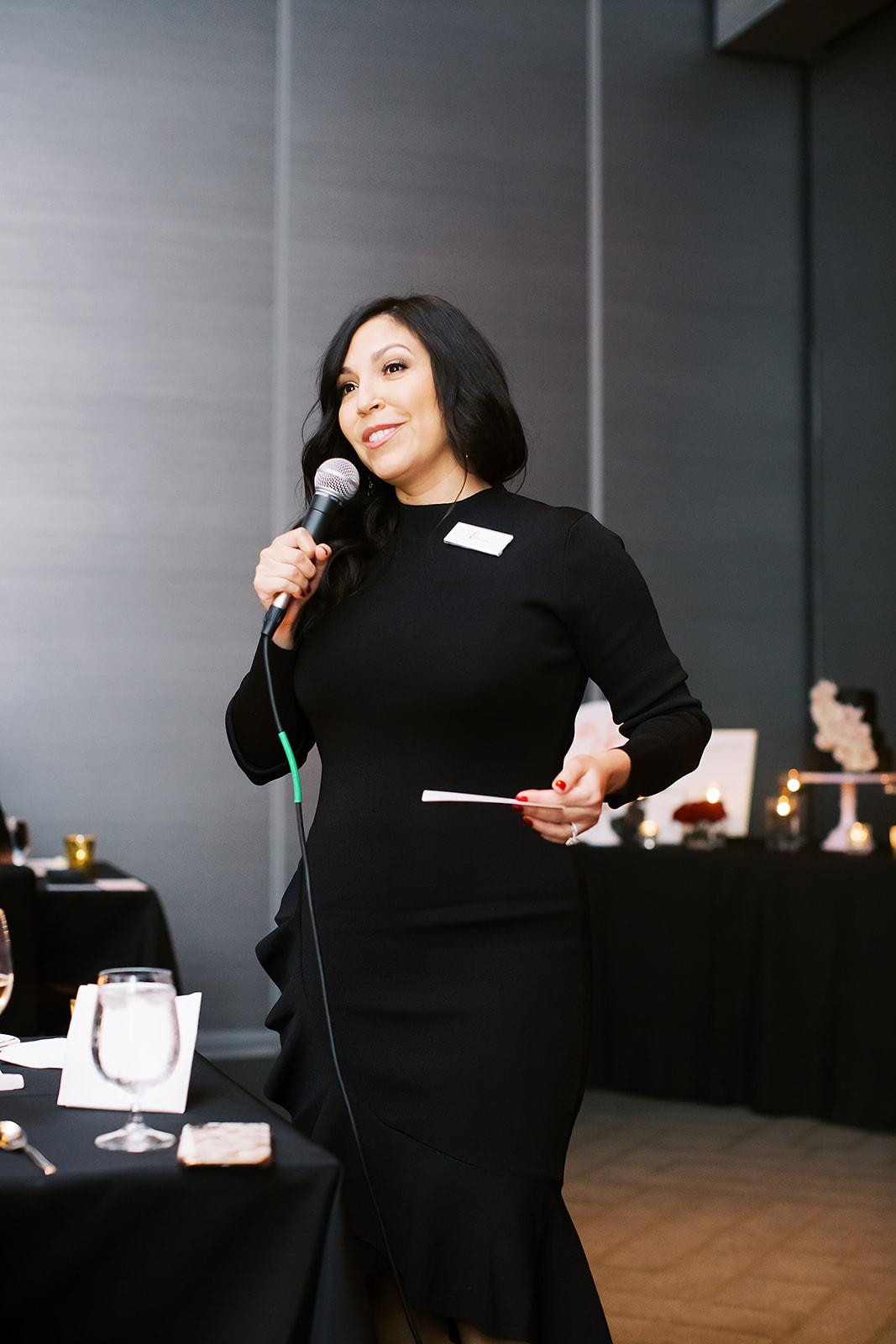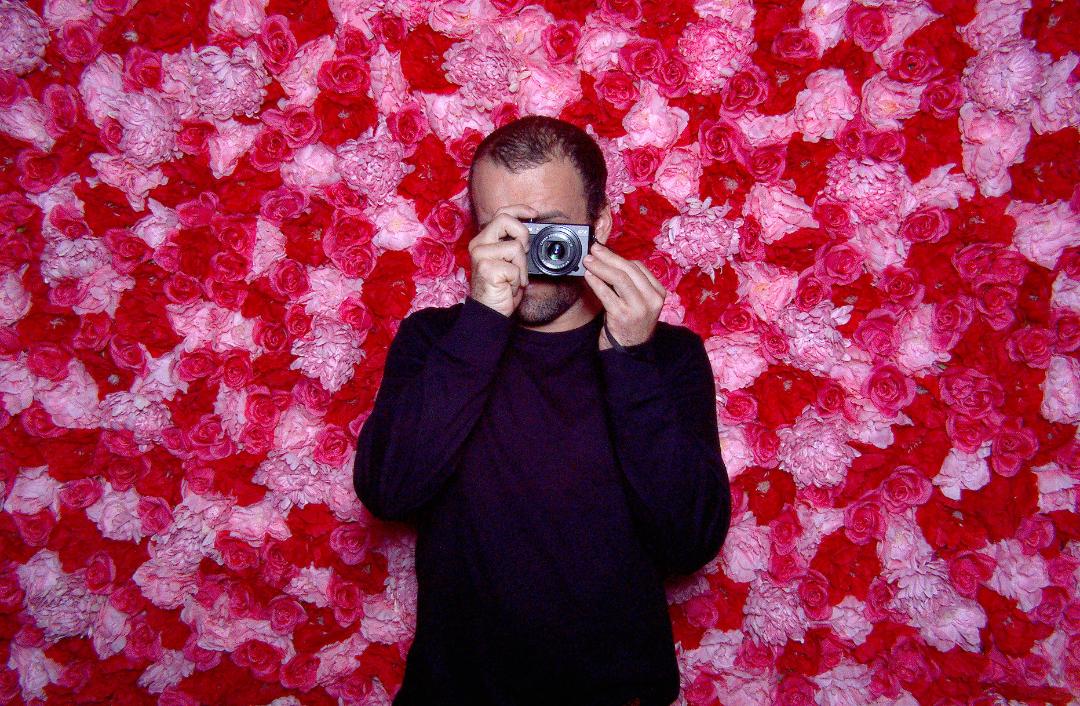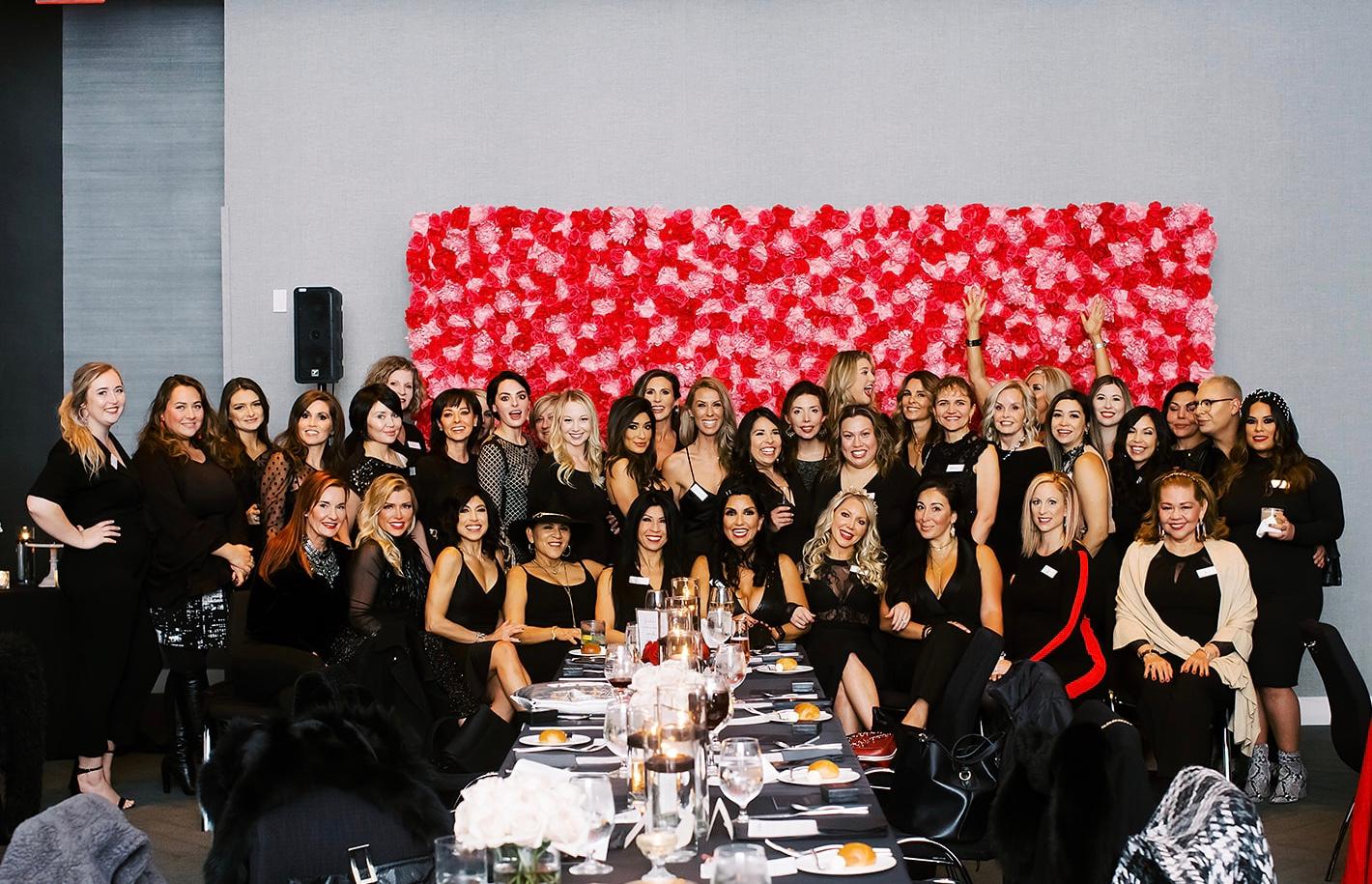 Hello Dolls,
Happy Saturday! November has been a very busy and exciting month. I have had many proud moments this year, and one of my proudest moments of 2019 was creating Glam Soiree with my partner in shine Angie Hejl aka (A Soiree By Angie). Wow what an incredible ride it has been. To start our Soiree in January with 6 amazing boss babes and end the year with 60 is something so amazing that I cannot even put it into words. My heart is so full. I set an intention when I started my blog PeaceLoveGlam that I would do something that would empower and support amazing boss babe women and I have been blessed to have created such a vehicle with Angie. I truly love supporting and bringing people together and Glam Soiree does just that. It feeds my soul.
I am excited to share all the details for the November Black Attire Soiree with you. Angie and I hosted the event at the W Hotel on 8 November 2019. The theme was dark and sophisticated. The cake seen above inspired our theme for the 7th Soiree. We chose red and pink florals to set the tone for a very chic and elegant soiree. Our 7th soiree was all about the ambiance. It was dark and moody , with low lights that made for a glowing table.
The gorgeous flower wall by Austin Flower Walls was the perfect pop of color and the perfect backdrop for the Ricky Photo Booth. Each of our lovely guests took home a beautiful holiday hair clip from our amazing and beautiful sponsor Jana Level 12 Salon.
Thank you to our beautiful guest speaker and life coach Dr. Denise Simpson for providing us with the insight to be deliberate creators. Your love and authenticity shined through in the words you spoke. You are such a beautiful soul!
A huge thank you to our Key Sponsor Kohler Austin. We are so grateful to you. Thank you! If you live in Austin or visiting Austin make sure you stop by their gorgeous showroom in the Arboretum. The design center offers a concierge service. The showroom is interactive and they offer something for everyone no matter the budget. I love Kohler's product. Our home is filled with Kohler, so I encourage everyone to take a look at their products when shopping for the home.
Here are the details for our November Soiree:
Hosts: PeaceLoveGlam @joplacencio A Soiree By Angie @asoireebyangie
Event: @glam_soiree
Venue:W Hotel @whotelatx
Floral arrangements: AsoireebyAngie @asoireebyangie @austinflowerco
Gift Box ~Hair Clips Sponsor: Level 12 @level12salon @jana_level12
Flower Wall: Austin Flower Wall @austinflowerwalls
Menus, signage and graphic design: The OK design @theok.design
Place cards: Ivelisse Designs @ivelissedesigns
Photo booth: Lucy Struve Photography @lucystruve
Decor Photographs: Paigeydahling @paigeelizabethcasey
Event Photographs: Dante' Pope and Lucille Photo
Gluten Free Cake: Chef: W Hotel @whotelatx
Gluten Free /Dairy Free Chocolate: Better Bites Bakery @betterbites_bakery
Sponsor: Kohler @kohlerstoreaustin #KOHLERAustin
Guest Speaker: Dr. Denise Simpson @drdenisesimpson
To my partner in shine Angie you are a special soul, I love dreaming up plans for our soirees together and watching you make our dream come to life. You take our vision and run with it! Your attention to detail is like no other. You make magic happen. Thank you for walking along side me on this amazing journey. I cant wait to see what 2020 has in store for us.
Thank you to every beautiful soul that made Glam Soiree possible. You are so special to Angie and I. We are excited to bring more Glam , Support, Empowerment, Love and Intention in 2020. Thank you for all your love and support keep shining your beautiful light on the this world.
To my son Dante' thank you for helping Angie and I with event photos, set up and clean up. I love sharing these moments together.
Next Soiree February 7, 2020 Galentines Day
Thank you for all your love and support!