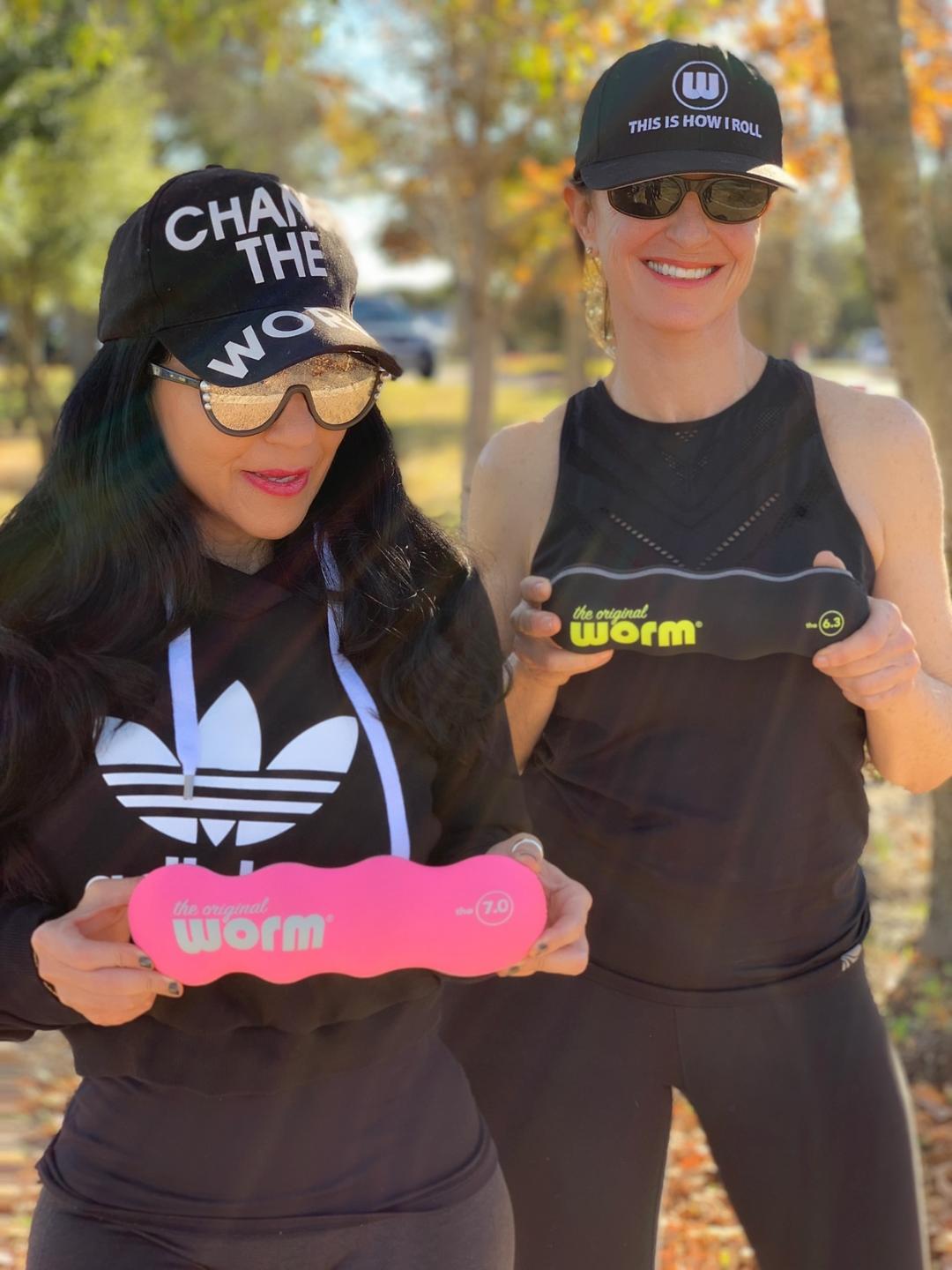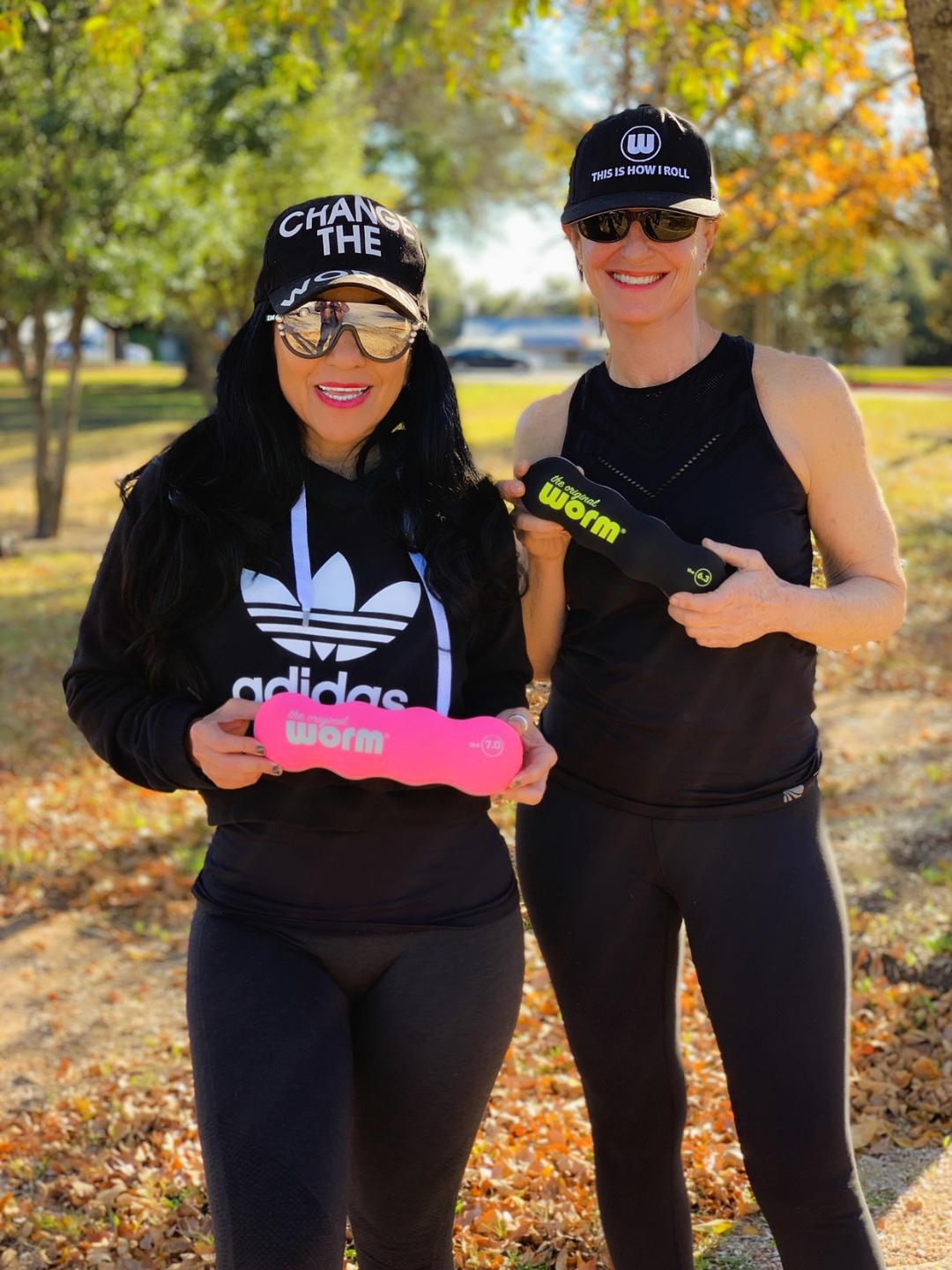 Happy Wellness Wednesday Dolls,
I would like to introduce you to Karen; owner and creator of The Original Worm as my guest blogger for Wellness Wednesday. If you have any questions please feel free to drop her a line in the comments and she will be more than happy to answer them. Lastly, we'll be giving away one of these awesome rollers, so be sure to read on how to enter. Enjoy!!
_____________________________________________________
I'm Karen Atkins, and I am the creator of The Original Worm here in Austin Texas.
I've competed in rough water swimming, triathlons and road races and still include boxing, rowing & yoga into my workout routine. I push my body to the limit.
For years I used tennis balls, hard foam rollers and other sports recovery products for relief. Most were poorly constructed and not portable or user friendly. Using my background in package design, I knew I could come up with a product that was effective, versatile, easy to use and portable.
The Original Worm was born! Enough with the formalities, lets get started!!!
GIVE YOUR BODY A BREAK!
Work; exercise; injury; daily stress; age, in other words, life, can cause tension, muscle aches, stiffness and discomfort throughout our entire body.
Fear not, relief is here!!
WHY ROLL?
Foam rolling has been proven to:
Increase blood flow/circulation
Improve flexibility
Increase joint range of motion
Reduce exercise related soreness
Soothe tight muscles
WHY WORM?
The Original Worm combines the benefits of therapy balls with a foam roller in one versatile, easy to use tool. Its' solid 4 rubber ball construction provides comfort & relief from neck to feet and pretty much everything in between! And, The Worm is the most portable roller around. You can use in the car, on a plane, at the office at home or at the gym. It will soon become your favorite travel companion!
The Worm doesn't care about your age or athletic ability. People from 8-85 are finding relief using The Worm. Its' unique design yields to your body contours without putting too much pressure on your bones and joints. The two sizes give you the option of the intensity of your massage. The 6.3 is smaller and contains lacrosse style (harder) balls. This is great if you like a more intense, deep tissue type massage as it gets into the small, tight spots. The 7.0 contains larger, less firm balls which is great for a good all over massage as it covers more surface area and is not as intense as the 6.3. Both available in pink or black.
Benefits of The Original Worm as opposed to Traditional Foam Rollers:
The Worm provides therapeutic relief without putting undue pressure on muscles and joints as with other harder, larger foam rollers. The Worm provides excellent support and compression while yielding to your body's contours.
Upper and lower back: Laying down or against a wall, your spine rests comfortably between the balls. Weight is distributed evenly, massaging only the muscle groups along your spine without putting direct pressure on the spine.
Feet: Rolling the balls on arches provides much needed relief for plantar fasciitis and tired feet. You can also massage the edges of your feet between the balls.
Shins: The Worm rolls both sides of your tibia between the balls, instead of rolling directly on your shin bone like most traditional foam rollers. Great for runners or those with shin splints and plantar fasciitis.
Neck: Place The Worm on a block or on your pillow at night. Your neck fits comfortably between the balls without putting direct pressure on the spine.
Moving head in gentle "yes" and "no" motions neck massage, and has be reported to help with headaches and migraines.
The Worm's uses are unlimited. Try on your glutes, calves, forearms and Achilles tendon.
You can use it anywhere! Great for travel, easy to pack in your carry on or take on the plane!
More information and videos at www.theoriginalworm.com
Contact: Karen Atkins, email@theoriginalworm.com
Wormwide Products LLC