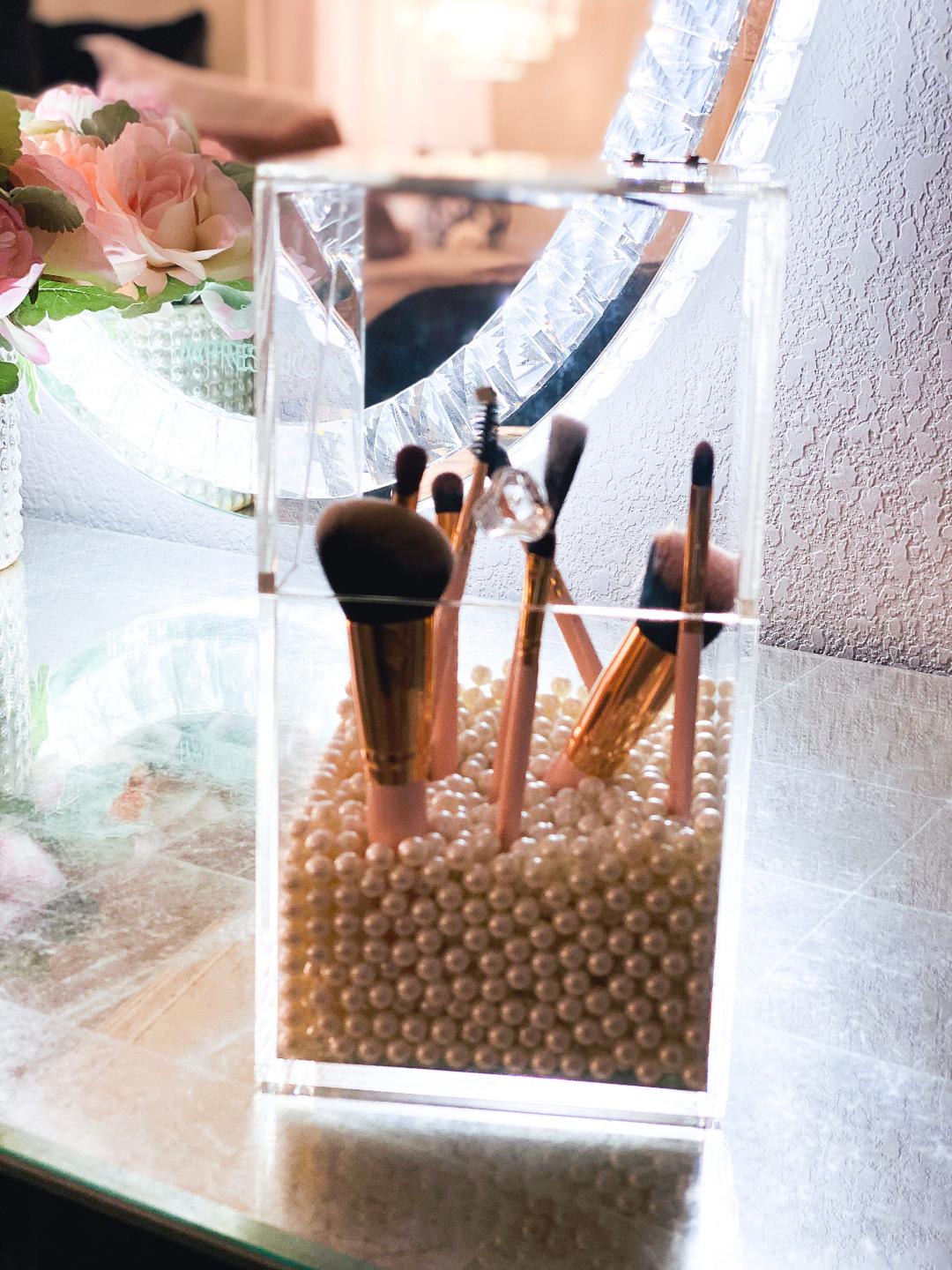 Happy Sunday Dolls,
Nothing makes me happier than to find items that keep my life organized. I could not wait to share this with y'all. I posted my find in my stories as well. Can we take a moment and talk about this acrylic makeup brush organizer? So fab and the pearls give it that extra Glam appeal! The pearls are actually functional because they help keep all your makeup brushes upright and your vanity organized. So beautiful!
I will link it below with a few others, so you have choices . I should mention that it comes with other colored pearls but I fell in love with the classic color white.
Here are the details:
Acrylic

PREMIUM ACRYLIC – The Clear acrylic makeup brush holder is constructed of 4 mm thick premium acrylic to guarantee sturdiness and long lasting durability.

FILLER PEARL BEANS ( Included ) – The pearl beans compliments the esthetic of the acrylic Makeup brush holder effectively keeping the brush standing straight and organized for easy access. This shiny color also will make your vanity prettier.

DUST-PROOF – Special designed Hinged lid will prevent the dust particles from entering the Acrylic Makeup Brush Organizer thus avoids dity from making contact with makeup.

SIZE – 5"×5"×9.5",can hold 20~30 brush of different size,include your eyelash brushes, foundation brushes, shadow brushes and so on.

PERFECT GIFTS – The Clear Makeup Brush Organizer is the best christmas gifts, birthday gifts, anniversary gifts for your wife, girl friends, someone who loves make up or that special person in your life.
You can shop it HERE
Here are a few others I am loving: HERE HERE HERE HERE
If you did not know, I have a Amazon Storefront where I post all my favorite Amazon Finds. You can shop them HERE